The Ubuntu community is used to the fact that every new version of Ubuntu is improved. With Ubuntu 10.04, I noticed that application startup time have increased. Time to solve that problem..
My environment
Tested applications
Opera 10.61
Mozilla Thunderbird 3.0.6 email client
DigiKam 1.2.0 photo manager
What to expect, or not..
If you read this post, you have probably googled around for problem fixes already. A lot of posts focus mainly on the operating system boot time, which I wont cover here. Just application startup time. Some recommended solutions involve disabling IPv6, which may improve certain network related applications and tasks. However, in my case I have a strong gut feeling that network parameters are no big issue.
Some posts recommend installing and running BleachBit (Ubuntu Software Center enabled). Cleaning up your system may improve overall speed and functionality, but it might as well increase startup time for some applications that need to build new logfiles, cache files etc on startup.
My solution
Lets take a look at the steps I took, and how each of them affected startup time.
Performed steps and effect on startup time

| | | | |
| --- | --- | --- | --- |
| Activity | Opera | Thunderbird | DigiKam |
| Clean out logfiles and cache files | No improvement | No improvement | No improvement |
| Disable desktop effects | Minor improvement | Minor improvement | No improvement |
| Change windows manager to Metacity | Noticeable improvement | Noticeable improvement | Minor improvement |
In detail
None of the steps made it worse, and no other side effects were noticed. Here's my thoughts on the activities:
1. Clean out logfiles and cache files
BleachBit was used here. I did'nt gain anything from it, but I would'nt blaim BleachBit here. Probably, none of the tested applications suffer that much from huge logfiles or cache that needs to be read on startup.
2. Disable desktop effects
Desktop effects settings are located at System -> Preferences -> Appearance. Click on the rightmost tab to view Desktop effects settings.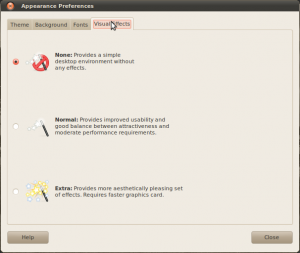 3. Change windows manager
In my case, I had Compiz windows manager enabled. I decided to try with MetaCity as windows manager instead. To make it a little easier to manage these settings, you may install "Compiz Fusion Icon" from Ubuntu Software Center. Running it, will give you a Compiz shortcut on the right side of your panel.

Right click, and select windows manager in the menu.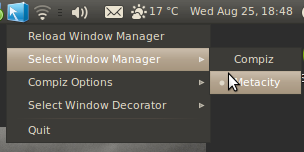 Conclusion
Graphics settings have a great effect on how your system and your applications work and behave. In my case, I also noticed a decrease in temperature on my Nvidia graphics card. This is something you should consider – during this summer I crashed my harddrive, probably because my graphics card almost melted.
Regarding DigiKam, it still have some delays there. The probable cause for this is my huge library of photos. No matter how fast my computer get, DigiKam still have to index the drive for new photos. ( A new DigiKam post needed?)
You might get other results doing the described steps. It might get better, or not. You may get some not wanted side effects, or you may run into situations were you would prefer Desktop effects and Compiz.
Please post you results or if you have a tip to further decrease startup time. Bye for now..